This is part two of the five-part series "In Defense of Fairy Dance," a collection and comprehensive analysis defending the positive aspects of Reki Kawahara's "Fairy Dance" arc in Sword Art Online. Research was gathered from the anime (sub and dub versions) and volumes three and four of the light novel series. This is in NO WAY written to justify all of the second half of the series, nor is it to say that it is particularly well-written. Instead, it is a half-full glass of the neat things the series did, and why I enjoyed myself with most of the content despite the glaring flaws. HEAVY SPOILERS EXIST.
Introductions out of the way, we're now getting down to business. For this second session, I'll be taking a look at the target reason why Sword Art Online has a big fat red "X" scarred across itself on many people's anime list. Her name was Asuna the Flash: Fierce, courageous, vigilant, and a knight for the people. Notice how I said was.
In "Fairy Dance," our superior heroine was reduced to a weeping twig of a fairy begging for her mighty Kirito-kun to save her from her perverted, slimy (in more ways than one) captors. This unnecessary shift from castle knight to caged canary puts a fowl taste in the mouths of many, but was Asuna really as pathetic as she seems, or, perhaps, was there a special kind of development in play underneath the foliage? Did our coined "Damsel in Distress" actually have an iron backbone under those glittering wings we so frown upon?
Titania . . . That Stupid Name
Finding Asuna alone in the first half of "Fairy Dance" (third volume) is pretty rare. Often her sleazy captor Oberon the Fairy King AKA Sugou is found loafing around her chamber, mocking her hero, her helplessness, and even the game itself . . . We'll cover that later. What is known is that by being forced into ALO, Asuna is unarmed – but still dangerous, mind you!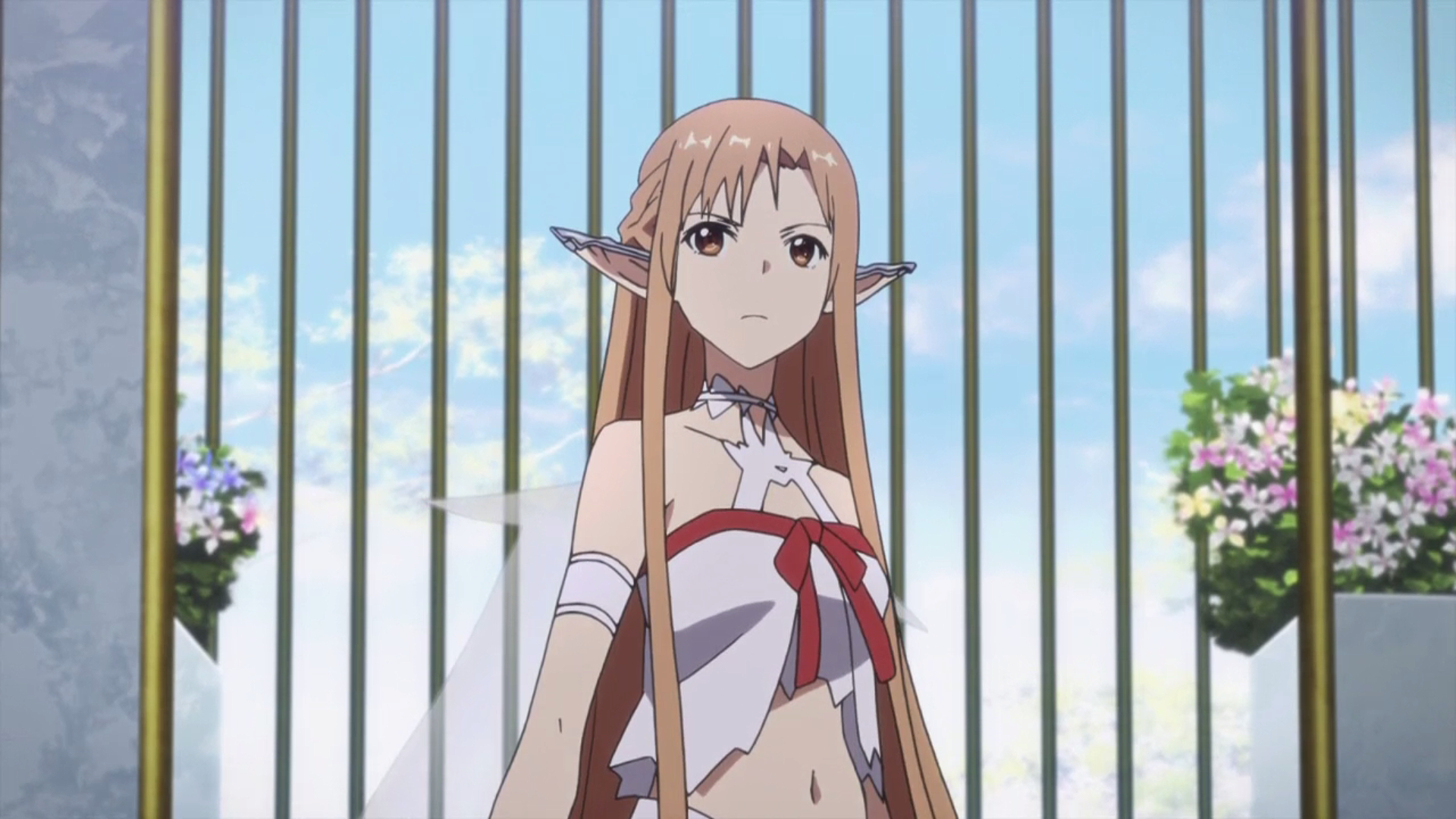 The book doesn't start her off too strong, though. Upon her entrance in chapter three (98, vol.3), our first impression is her 'silent prayer to Him,' "'Hurry . . . Hurry and come save me, Kirito . . .'" Yeah, not a good start to our favorite ruby knight. Already, we feel her frailness of being a caged princess, as she first clings to the thought of someone else rescuing her rather than escaping herself.
That all fades away when Oberon graces his darling 'Titania' with his presence. In Aniplex's English dub for the anime, she snappily remarks,
'Stop calling me by that stupid name. My name is Asuna, Sugou.'
In comparison, the light novel uses
'And stop calling me by that stupid name. I'm Asuna, Oberon . . . I mean, Mr. Sugou.'
If you read that second one closely enough, Asuna still reveres Sugou as an adult, hence, the respective Mr. in front. The ellipses further implies a cautioning, while the anime, specifically Cherami Leigh's role of Asuna, is clearly firm with an unwavering glare to match it. That is one tiny detail where the anime did a better job at maintaining "The Flash's" fire.
Another variance in tone between the two versions is shortly after, where Oberon requests that Asuna 'give her heart to him.' In the English dub:
'Never. The only things I'll give you are disgust and hatred, and nothing more.'
Ooh, that's tough talk. How about the LN?
'You will be waiting until the end of your days. All I feel for you is scorn and disgust.'
Interesting. Both are equally fierce and nearly identical in translation, but that wordier LN quote (Japanese language probably has something to do with that) comes across as a bit more, say, romantic, no? Not romantic as in "Oh Sugou, I love you" but more like a sweeter sass than "Never." That brings us to the next point.
Romantic VS (not-so) Sexy 
Reading a scene versus watching the same scene visually are two completely different translations. In that regard, the Asuna in the LNs embodies this air of "romantically clinging to hope," while the anime is more of an "Oh God please save me from this disgusting man." Support for this comes from the repeated reference to other aspects of nature in the LNs:
The World Tree Warriors are moths, the Sylph are grasshoppers, the Cait Sith are beasts, Kirito is a cockroach, Asuna is a bird trapped in a cage . . . And this all makes sense considering ALfheim's fairy world theme – Everything is supposed to be lovely, full of wildlife and excitement! Asuna also translates as more of a delicate, gold-shackled woman than the anime's bustier bod meant to attract your eyes. She is an item for Kirito and Sugou in the anime rather than a prize to be revered and softly handled.
And that's where people draw the line with the second half – Sugou's ridiculously inappropriate touching of Asuna towards the end. Was it necessary? Arguably, I think yes. By then, we are asleep. Kirito will reach the top, kill Sugou, and save the girl. The end. So didn't having the female physically exploited before the MC's eyes by this atrocious monster fuel the excitement, the rage?! It's completely disgusting and humiliating (and fan service) in the anime (not that it isn't in the LN) but you cannot say it wasn't effective. It was the most infuriating yet engaging moment in the entire second half!
As for the tentacle slug things that nearly raped her? Yeah, THAT is poor, stupid, and totally uncalled-for writing. An alarm system or perhaps HUMAN guards would have not only made more sense, but also would have purified the show even if just a tad bit more. This was plain disgraceful and distasteful, not to mention unjustifiable. *shudders*
Parallels with the Legend
Okay, so it's not a legend, but Shakespeare's "A Midsummer Night's Dream" clearly was the basis for the second half's cast. Oberon is the ruthless fairy king driven by jealousy and power. He is a man to be enthralled by jokes, and will wickedly pursue his lust by making an ass of his wife, Titania, his object, wife, and queen. Titania is the strongest female fairy in the land, and her struggle against her King's will puts her foster son, whom she loves more and spends more time with, on Oberon's wanted list – He even contemplates making him his servant! Now, whom do these characters sound like? I wonder . . .
By Bravely Leaving the Nest, POSITION DOES NOT DEFINE PERSONALITY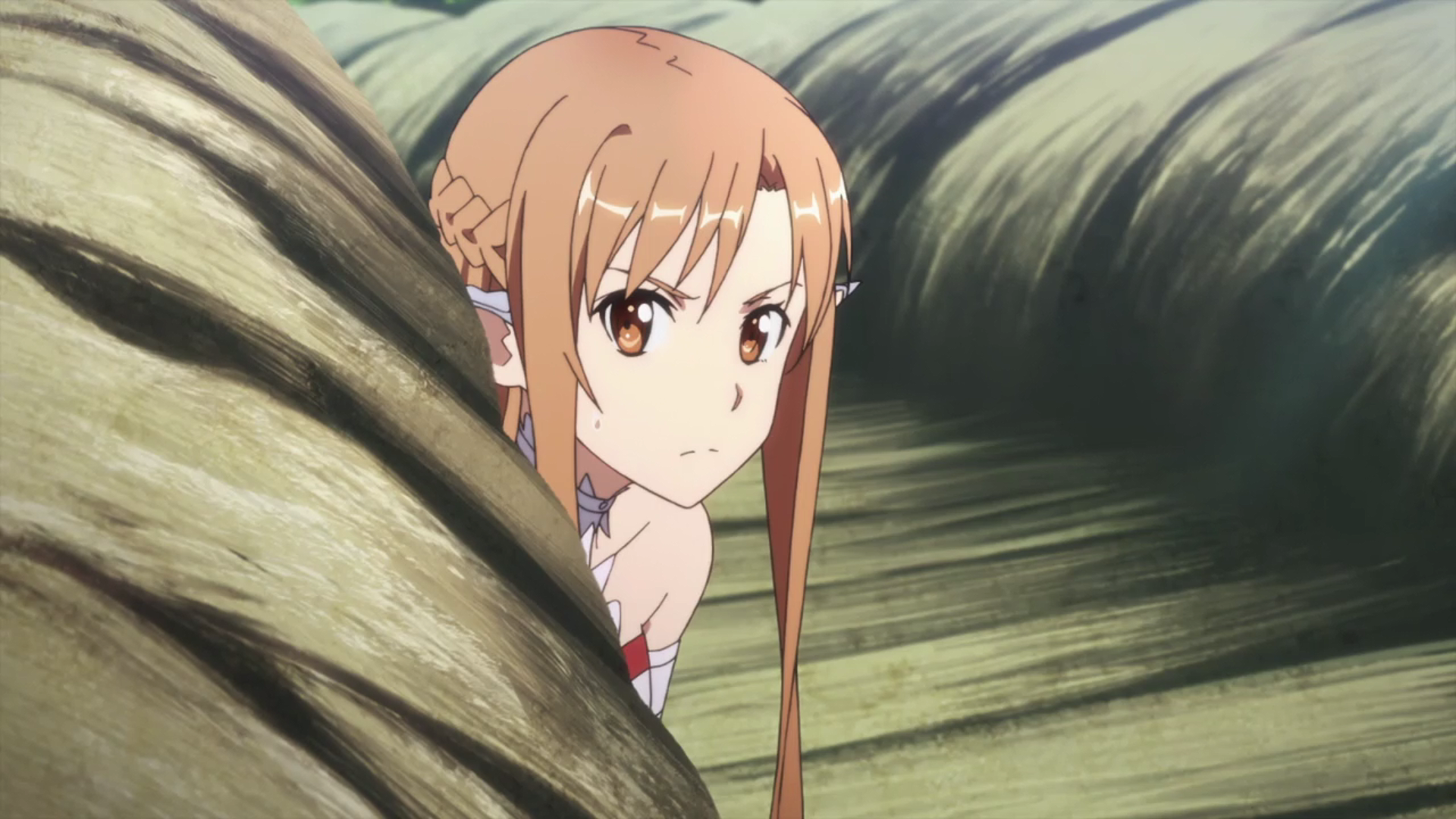 If you once thought that Asuna was a weak gal in ALO, think again. Sure, her sword was taken away, but the true sword is her commendable courage (call it corny, but it is true). Asuna could've been stuck in that damned cage forever and gotten her mind wiped clean had she been caught by Sugou – Yet this birdie still boldly left the nest. "'That ends today,'" she tells herself. The only sign of reliability at this point is her murmuring "'Kirito . . . I'll do my best.'" That's not, "Kirito, come save me when I get out." That is "Kirito, you're out there fighting, and I'll do my upmost to match your spirit." Know the difference.
And I'm so freaking sick of everyone calling her a "Damsel in Distress!" Urban Dictionary defines it as "a stereotype of portraying an unmarried female who needs to be saved."
Asuna is married. Childlike in execution, but nevertheless an item with the Black Knight in the first half.
She doesn't need saving – She's doing it herself! Why else would she risk her life in the game and in the real world? Kirito is trying her hardest, and she knows she must reinforce her own backbone with the thought that they will both be reunited TO ESCAPE BY HERSELF. This Asuna is just as clever and observant as her red counterpart. Look how she figured out a way to sneak out using the mirror; How about when she did escape, saw the 300 trapped players, and muttered that she would save them, too; Or when she did find a logout source, was pulled away, but took the key with her only to give it to her best fighting option – Her daughter and husband down below the clouds. And she did this all without pissing off her captor enough to have him wipe her mind. She'll push his buttons and resist as long as she can without closing off any chance of escape.
Asuna shook her hair back, puffed out her chest in resolution, and strode forward purposefully, the way she had once done in a different world . . . 'I won't stop. I'm getting back to the real world, alive. I have to see him again,' she swore to herself, and then resumed her march. (202, vol.3)
Guys, she's an incredibly talented and valiant spirit on the inside, so please do not let that piece of cloth they call a dress and her whimpering in disgust hamper that belief. This, above many moments in the franchise, shows her true willingness to live and free herself (struggled with when she first arrived in SAO) – That iron will to push through the impossible is the mark of a true heroine. I admit that I'd rather watch her slice and dice demons on the battlefield, but I can, to a degree, at least understand the position/inner conflict (to live, and to do so freely), and why it the series took this route. It's setting up Kirito as the main hero and Asuna as a secondary character for future content. Again, I don't prefer it, but observing Asuna endure in this manner was still nevertheless intriguing if you look past the fairy glitter. Queens can be just as resilient as the mighty knights they call upon.
---
Thank you for reading! Please, share any thoughts below and stay tuned for PART III!
(I own neither the anime nor the light novel series of Sword Art Online. All images and videos belong to A-1 Pictures and Reki Kawahara.