A brief spoiler-free review of the 13-episode spring 2017 anime "Granblue Fantasy The Animation," animated by A-1 Pictures, directed by Yuuki Itou, and based on the video game series of the same name by Cygames. 
---
A World of Skies and Islands
Awash with a stunning canvas of roving blues and fluffy whites is the world Granblue Fantasy is painted on, a famous franchise which has amassed a great following thanks to its many JRPG titles. While I am unfamiliar with this particular adaptation's origins, the story still follows its titular character, a young boy named Gran, and his adventures throughout the wondrous skies that surround him. Accompanied by a talking winged lizard named Vyrn, the two embark on quests that tend to question the governing bodies of their world, such as the menacing Erste Empire and her sprawling military factions.
Alone in the forest one day, Gran stumbles upon a young girl with cerulean hair. Her name is Lyria, and she just recently happened to escape from the Empire after being subjected to sinister underground experiments on magic and the mythical. Alongside Katalina, a once-high-ranking knight of the Empire assigned to guard Lyria, Gran and the crew set out into the vast skies to escape the Empire's treacherous plots. With ship set to starboard, Gran's party aims to protect Lyria, as well as head for the famed land of legend mentioned in the last letter Gran received from his father: "Estalucia, Island of Stars."
I'll be frank, the story of Granblue Fantasy The Animation is not a new one; girl is used by evil organization, boy protects her, boy meets a bunch of new allies while traveling around, yada yada. Even still, the heart of a fantasy adventure series lies in the lands we are taken to, and the variety of peoples we meet along the way—this pattern may not be a new one, but it doesn't need to be new to be a fun watch. In that regard, this anime exceeds, but the overarching story—the hero's main goal—is still a bit fuzzy. One moment Gran merely wants to watch over Lyria, but the next he insists on defeating (or rather purifying) these godlike mythical beasts to obtain magic crystals for . . . what was it again? I honestly can't remember, but it's still formulaic enough to follow along.
The Crew Aboard the Grandcypher
As a main character, Gran is without much personality. He's kind and strong, yet remarkably bland, and although the show tries to convince you that he's a real stellar guy with "special powers," Gran's actions and words fare just as interesting as a silent protagonist's.
Oh wait, he originally was one? *sigh* This is another reason why adapting games into anime is hard . . . and somewhat a mistake.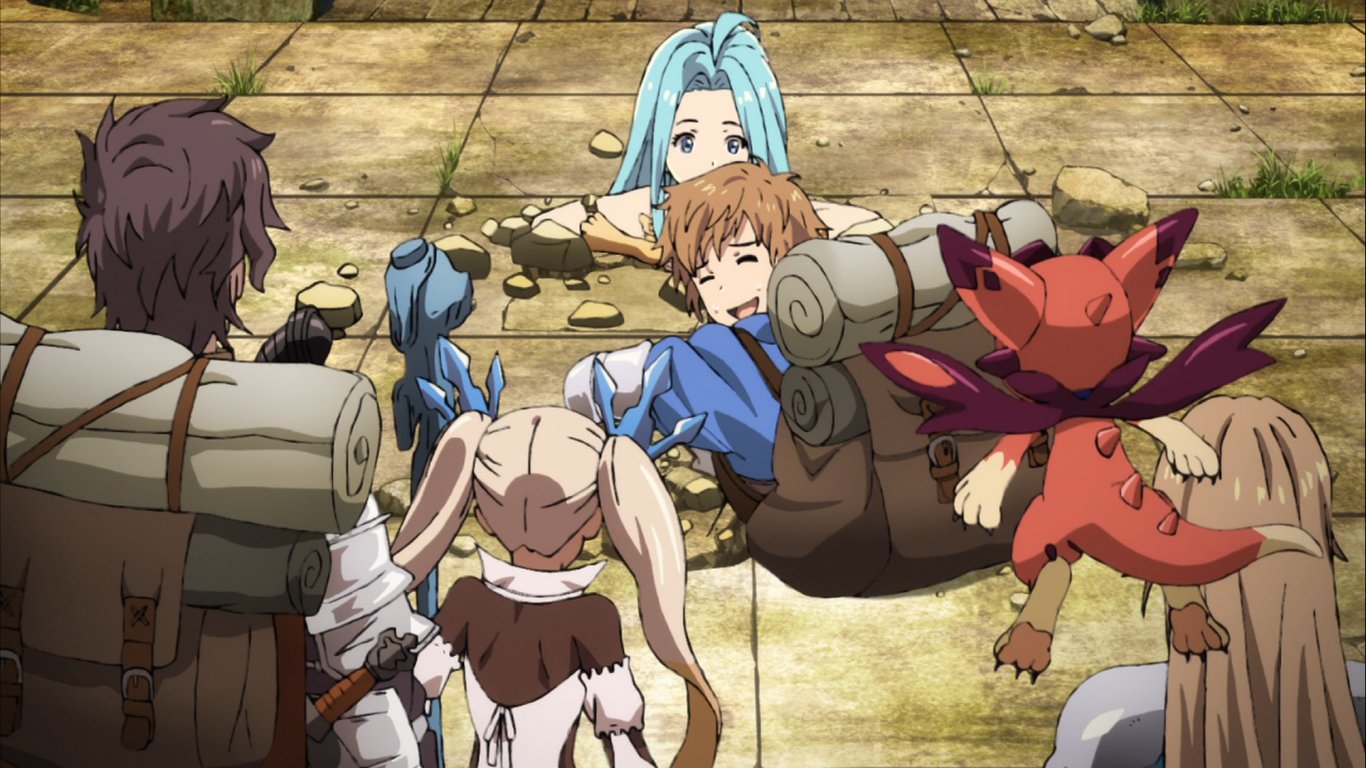 Obviously, the show pins most of its character love on Lyria, and thankfully, she does seem like someone you'd want to care for. Her curiosity and blind love for the world may not be executed as well as Tale of Symphonia's Colette, but the idea still transfers alright. Even our dutiful knight Katalina and reliable ship's helmsman Rackam felt like characters I would enjoy partying up with. Same goes for new recruits, like the fiery (yet ironically ice magic specialist) mage Io and Team Rocket-esque dungeon thief duo Karva and Mary. Anyone else, well, the show just doesn't give much screen time to learn about, but I'm sure they can be just as likable if given a fairer shot.
All the while, the Empire is looming in the dark and new faces, friend and foe alike, keep poppin' out like the skies are just one big circus tent for JRPG tropes—there were like +10 new characters in the second to last episode alone, it's ridiculous! If Granblue Fantasy The Animation had one big problem, it was that it tried to compensate "character development" for "5 seconds of fame," and, in the end, not one of the side characters stood out as a result (which is a real shame given how cool some of these outfits were).
Painting the Skies–The Magical Watercolor Touch
While I couldn't give a damn about some of the characters thrown in at the last minute, I did have an incredible appreciation for what A-1 has done with their latest fantasy anime. Say what you will about their method of adaptation, but from their work on shows like Fractale, From the New World, Fate/Apocrypha, Sound of the Sky, so many others and most infamously, Sword Art Online, I've found A-1 to be one of the best animation studios where the fantasy genre is concerned. From the luscious color palettes and beautiful blends to the "old ruin aesthetic" of their utterly enchanting scenery, A-1's always been on top of the game, and Granblue Fantasy is no exception. If anything, it's the model, the paragon of what a high-quality fantasy production should look like.
But especially with Granblue, the studio preserved the original art style from the games by giving it a softer, almost watercolor appeal to the backgrounds, much like the magic they did with Grimgar. And the characters and fight scenes, agh, WOW! I believe I recall an ANN article explaining that the adaptation's delay was due to preserving all of the characters' outfits, armor, leathers, buckles, trinkets, etc. in the anime style, and boy did A-1 bring out all the bells and whistles for this one. Highlights, shadows, bevels, rivets, textures, blends—what can only be imagined as an animation nightmare turned out to be well-worth the extra effort!
Just watching the Grandcypher and its beautiful, colorful cast soar through the airy clouds across majestic seas of water and light took me to an entirely different land altogether. Put its spiraling architecture together with Square Enix and Cymusic native Tsutomu Narita's epic orchestral soundtrack and you've really got a solid, powerful combination.
Lastly, can I mention how much of a bop the OP "GO" by BUMP OF CHICKEN and ED "Sora no Parade" by HARUHI are? Like, these songs about living the best lives we can are the total chill vibes that I LIVE for!
Will We Ever Reach Estalucia?
Afraid not . . . maybe . . . ? At the end of the day, Granblue Fantasy The Animation is an absolutely gorgeous fantasy adventure anime that is hurt by its weak direction, weak antagonists, and lack of character development (and proper introduction for that matter). After its pinnacle fight scene in episode 12, one would imagine that the last episode would take us to the isle of lore where the reunion (and final showdown) would commence—WRONG. Instead, we are "treated" to a random bikini-filled beach episode with the cast of ladies that were introduced a mere episode prior. What a letdown.
But there is hope, as supposedly a second season was announced not to far back (no sure date as of yet). The anime just came out last year, after all, so I would assume that this is just the first half of the big adventure to come. Will I watch it? Of course, I'm in it for the long haul! But should you? Granblue Fantasy The Animation definitely feels like it's more of a treat for fans of the game, but if you love magic, fantasy, and adventures as much as I do, perhaps Granblue is worth the "grand," if not slightly frustrating, investment. It was bland, sure, but never did I really get "angry" with the show—in fact, it kinda made me want to start playing the games! Your eyes will love what they see, and your heart will yearn for the fun in-town shopping and traveling to last forever, but you may be able to guess the end long before A-1 decides to give it to us.
Our destinations could be totally different, but I think this is our fate. As we continue our journey, we keep meeting new people. I treasure the connections that we make—just like the one we feel with you now. — Gran
---
Afterword
A softer, much more light-hearted take on the fantasy genre than typical game-to-anime adaptations, I have trouble recommending Granblue Fantasy on the grounds that at this time, it is currently incomplete (the worst kind of ending IMO). Should we truly stop here, I'll award Granblue Fantasy The Animation with the "Breads" rating and a recommendation to SKIP it unless you're a fan of the franchise and want to see your favorite characters brought to life by A-1's genius. If we get more, however, that value is instantly reappraised to a "Coffee," or even higher depending on how the second half turns out. Here's to more Gran-seeming-important, more Katalina-obsessing-over-Vyrn's-cutness, and more pretty-artwork-for-days!
As a last minute addition, should you take up Gran and Lyria's quest, I CAN safely recommend the English dub by Aniplex (although I still condemn their $80 releases). Both the sub and dub of Granblue Fantasy can be found on Crunchyroll for FREE, so hit it up whenever you're next in the fantasy neighborhood! Be sure to let me know what you thought of this series, its characters, or this review down in the comments, as I'd love to know! Thanks so much for reading, and until next time, this has been
– Takuto, your host