A brief spoiler-free review of the fall 2015 anime film "Empire of Corpses," produced by Wit Studio, directed by Ryoutarou Makihara, based on the novel by Keikaku Itou. 
---

Oh my, is it already passed Thanksgiving?! Woah, since I've been slacking I'll make this one brief. Shall we visit the first of three films based on the late novelist Itou's melancholic work and see if Wit Studio was able to breath life into his ambitious project?
Zombies and Steampunk
Welcome to an 1800s London where zombies roam the streets! Not really, sort of. Scientists have played god with dead bodies long enough that they've patented it down to a system called reanimation. In other words, the Brits are reviving the dead. It's not a foolproof process, however, for the key to understanding life itself–the soul–does not return upon reignition. Because these walking corpses are incapable of experiencing the joys and sorrows that life presents, they're mainly revitalized to serve in the labor force.
But every lab experiment comes with its breakthroughs, and that is exactly what befell Dr. Victor Frankenstein. Rumored to have been the first to successfully reanimate a corpse with a soul, the great mad scientist suddenly disappeared–his work supposedly vanishing with him. Inspired by his love for research and science, John Watson pursues hunting Dr. Frankenstein's notes regarding the blueprints of the soul in order to revive his best pal, Friday. Throughout his journey, Watson unearths the terrifying truths of corpse technology, and how costly the science is for not only the living, but also for those who have long since passed on.
What exactly makes up the "Weight of the Soul?"
I'd like to first point out that I understand why the film, despite its glorious visuals, was poorly received by critics. The first Project Itou film tries to dish out a lot of hard, unknown science, but above all make you feel emotional connection to the lead character Watson and his situation. Grasping the conceptual stuff is particularly tricky, and the ties between real life historical figures and their fantasy counterparts don't seem to make understanding the basics much easier. It's even arguable that the rules of the world presented are poorly laid out from the start. This build up of failed comprehension and attempt at emotional appeal led to a cataclysmic finale on both the story and visual levels.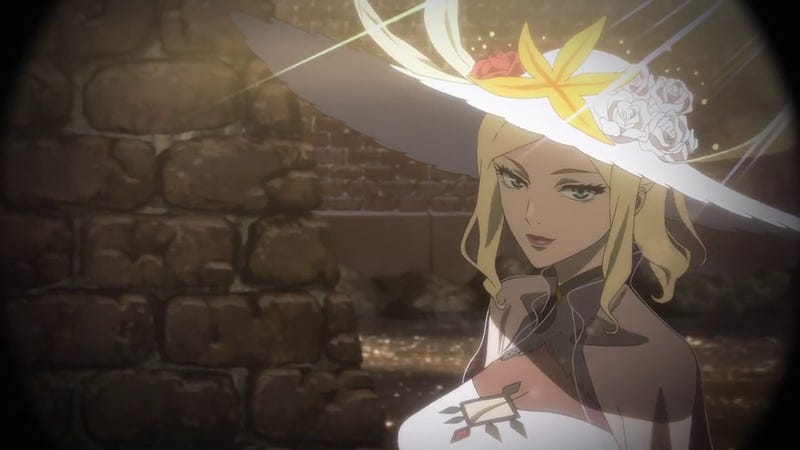 Beyond the messy climax, I did quite enjoy the relationship between Watson and Friday. Their exchanges (well, Watson's actions and Friday's silent responses) felt genuine, and above all, I think that matters more than a shaky concept deliverance does. When Watson felt curious or distressed, the actions were reciprocated on myself. Also, to go against the crowd, I really liked the female role. Though she mainly served as a reminder of the scientist's goal–Friday serving as his ambition–I found myself wanting her to also receive a happy ending. The Russian scientist Nikolai could've used more screentime, but I digress since the show mainly revolves around Watson's side.
The Incredible World of Sherlock Holmes
Empire of Corpse's strongest point easily lies with Wit Studio's fantastic job in creating an atmosphere similar to a Sherlock Holmes film straight out of Hollywood! Such entrancing lighting, rich symbolism, and articulate detail in the machines and other devices absolutely blew me away. Each of the characters stand out beautifully in their own way, from the deadpan expressions of Friday to the stylish English outfits of a steampunk society. Action scenes would engage any viewer (I'm a sucker for vehicle chase scenes, so the opening really drew me in), and it all culminates into a finale so stellar it became a visual feast. I had to pick between absorbing or comprehending, and, well, I think you knew which won. I did notice Redjuice and Egoist accredited, which would also explain the Guilty Crown vibes.
While I cannot recall any specific tracks, the music did do the show justice in contemplating the Sherlock Holmes tone. On the auditory side, huge props to the English voice cast and THE ACCENTS that tied so well with the concept and setting. Wonderful performances from Jason Liebrecht (Watson) and Micah Solusod (Nikolai).
Final Thoughts
Even if the concepts presented are a bit tricky to grasp near the end, this movie achieves in the feels department for me. Perhaps I was missing the context of the original Frankenstein novel for a few of those bits, but I did find it okay for the most part. It's another demonstration on how far man will go to pursue knowledge above all else, an ultimate nudge to the idea that for us humans, some things are best not knowing.
"Beauty and sublimity are not what shape the future. It's the willpower to try to actualize one's words and feelings for someone else–DON'T YOU SEE!?" – John Watson
Final Assessment
+ Breathtaking visuals, fantastic steampunk design
+ Emotional attachment to Watson's struggle with Friday
+ Fascinating project history, happy to see Itou's work animated
– Started off simple enough, but lost its footing by the end
– "Weight of the soul" not explained thoroughly
---
I'm signing off on the first Project Itou film with a hot "Coffee" rating here at the cafe! Understandably flawed, but still quite enjoyable. This was the finale to my Halloween break following Shiki, a title which I reviewed a week or two back if you're interested. Shoutout to Crimson for recommending this movie to me!! What did you think of Empire of Corpses? Were you disappointed with the results or did you find it particularly noteworthy for anything? Let me know because parts of me (the living ones, at least) are still a bit conflicted! Until next time, this has been
– Takuto, your host