This is part three of the five-part series "In Defense of Fairy Dance," a collection and comprehensive analysis defending the positive aspects of Reki Kawahara's "Fairy Dance" arc in Sword Art Online. Research was gathered from the anime (sub and dub versions) and volumes three and four of the light novel series. This is in NO WAY written to justify all of the second half of the series, nor is it to say that it is particularly well-written. Instead, it is a half-full glass of the neat things the series did, and why I enjoyed myself with most of the content despite the glaring flaws. HEAVY SPOILERS EXIST.
For this third part I think we'll have a little more fun. Are you sick of dramatic irony yet? No? Good, because realizing how large of a role it plays in Sword Art Online's second half could make or break the experience, and here at the café, enlightenment is something we strive for!
As I mentioned, today's post a little different. Instead of analyzing one line for +1,500 words, I thought I'd briefly list quotes from the light novels hinting at the rich irony in play, this being the symbolism behind the fairy wings and the birdcage suspended in the heavens. It'll largely be, once again, a look into Suguha and Asuna.
Wings of Freedom, a Look into Suguha's Case
"But she knew that when it happened, Kazuto's heart would be forever beyond her reach, (92, vol.3)."
Ah, this refers to the incest we glanced over due to its taboo nature and my modest stance with the whole thing. Regardless, isn't it funny that the person whom she is closest to – they live together for crying out loud – is the one person whom she is not allowed to love? Siblings, cousins, or otherwise, that's pretty cruel.
". . . Leafa felt the heavy, clinging web of hassles descending upon her. The only thing she wanted from ALO was the feeling of flight, of escape from pressure. To cast aside her troubles and fly as far as she desired. Nothing more. But it seemed that was a naiveté born of ignorance. Perhaps it was just a fantasy of hers, that this virtual world where everyone had wings would be enough to help her forget the gravity of real life, (116, vol.3)."
Apologies for the lengthy passage, but this is the bottom line, the viewpoint through which Sugu sees ALO and gaming altogether. Stats, battles, monsters? She couldn't give a 'flying' flip. How can we tell? She could've joined any other game, but she chose the one VR with flight capabilities – Wings of Freedom (no, not a tribute to the overly popular titan-slaying hit). After school when she logs on and becomes Leafa, she believes she can sprout her wings and take off, leaving her problems grounded. She wants to float around, to soar against the moon and the stars, to leave it all behind and fly away from her issues. She knows it's a foolish thought, yet here she is still playing the same game.
"'I wonder . . . Why does everything have to come down to control-or-be-controlled? I mean, we have these wonderful wings . . .' (120, vol.3)."

"The stronger she grew, the wider her range of activities. Just flying through the sky over unfamiliar territory was a thrill. But as she became one of the strongest sylphs in the game, along with her knowledge came hassles. In time, she felt she was just going through the motions. The obligation to fight for her race became an invisible chain shackled to her wings, (133, vo.3)."
Here's that punchline again. Imagine having weighty responsibilities in the real world, like most of us do. These obligations are noisome, so we log on a play games to leave these worries behind if only for a brief moment. Now, just because she became attached to flight, Leafa has become a significant figure in the game, and her controlling guild leader has burdened her with unnecessary responsibilities. It's just a game, sheesh! All the girl wants to do is fly, so quit dragging her off to be a battlefield celebrity!
"Suguha's stature was far from large for a kendo athlete, but compared to Leafa the sylph, she was rather big-boned. When she moved her shoulders, stomach, or thighs, the muscles rose to the surface of the skin. She thought her breasts had grown quite a bit recently, too. She couldn't help but feel that the inescapable reality of that body reflected her own inner conflict, so Suguha shut her eyes tight again, (132, vol.3)."
This is another long but good one. We don't get this in the anime. Also, another point from my heart to Suguha. Sugu is a big-boned, short, well-endowed women. To her, she's anything but a woman, that being her sylph idol. Leafa is slender, tall, big-chested (as well), yet just as strong, if not more so. That's not fair. All of her painful kendo training and I look like this? That's what she probably is telling herself. It doesn't help that her bro is a perfect fem-boy – Even Klein wants a piece of Kirito's meat. Sugu, I feel your pain. Any chance I get to create a virtual avatar, I change the hair color to blond (because I'm a brunette), change the eyes to bold blue (cause mine are dull brown), and chop off a good +50 lbs just because I CAN. I'd RATHER look like this! Having body-image issues makes us feel like we have done something wrong, and sometimes, kiddo, that's just the way this world works.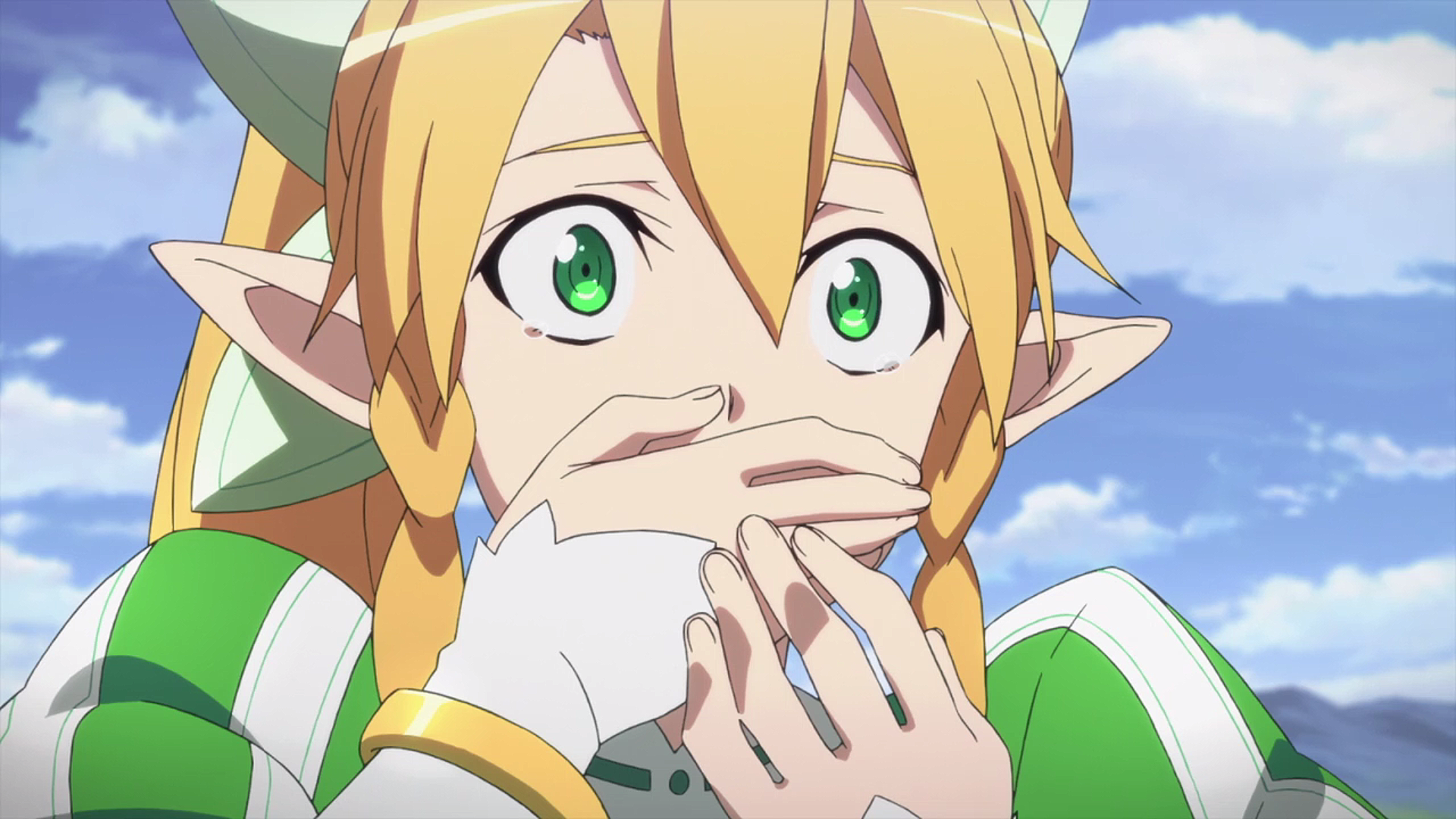 "She'd be lying if she claimed that loving Kazuto as Suguha and being attracted to Kirito as Leafa didn't fill her with guilt. But it was Kirito who had taught her that the world of ALfheim didn't have to be just an extension of a virtual flight simulator, but another true reality. Because of that, Leafa had realized that the feelings she felt here were true, not just digital data . . . 'This can't be happening . . . This is so wrong,' (101, vol.4)."
This is the grand reveal we covered in PART I, and might I add that the entire five or ten pages this encompasses could've been marked down as quote material. Obviously, the irony here is that Sugu loved her brother, but that was 'wrong.' Thus, she put her mind to VR games like he did and discovered flight. It wasn't long before she buried those feelings and met Kirito, a gamer who brought a whole new level of experience to her. Her life feels forever revolutionized – that she's moved on – until the boy (should've been obvious duh from the start, as the similarities are off the chart) reveals himself to be the knight she found new love in. She betrayed her own heart, and the guilt is incomprehensible.
"I was on top of the World Tree. The peak of the world. The place that Leafa . . . that Suguha had dreamed of for so long. But . . . 'There's no city in the sky' . . . It was all an empty gift box. Past the enticing wrapping paper and ribbon, it was empty lies. How could I explain this to Leafa, after all of her dreams of being reborn as a high fairy? 'This is unforgivable . . .' (137, vol.4)."
Right before the fated reunion in the clouds, Kirito gets a peak at the world of fairies for what it truly is – A huge hoax. I put this here because, as he brings up, this was Suguha's biggest dream: To soar through the clouds, and beyond. Now, Kirito is high above in the World Tree, only to realize that what the high and mighty sylph was clinging to this whole time was false. There is no master race, only one terrible, greedy man behind it all. Even though I'm not old enough, it'd be like breaking it to your daughter that the Tooth Fairy doesn't exist . . . I still cry about that one, not that the idea broke my heart or anything, but that almost every other kid will have to go through the same trauma. Why even do it in the first place? You give me wings, ALfheim, but I'll never truly be free?
Cage of Gold: A Look into Asuna's Case
"The space between the bars was just wide enough that Asuna could have squeezed through if she tried, but the system prevented her from doing so. The intersecting golden bars stretched vertically before meshing together overhead in a dome . . . Which made this room a giant golden birdcage, hanging from the branch of an impossibly large tree – but no, that description wasn't right. The birds who came to visit could come and go freely between the metal bars. It was a cell designed to hold a single prisoner: Asuna. A fragile, elegant, beautiful, but cruel cell. (98, vol.3)."
This is the punchline in Asuna's case. Can you imagine the beauty of a floating golden birdcage with foliage wrapping around the bars and the horizon melting through each day? Don't be fooled, as its beauty is insulting. The bars are purposefully positioned far enough to feed a sense of escape, but only after a natural attempt would one realize it was all a joke – You can't actually squeeze through. Birds can weave in and out whenever they please (pair of black and white birds represent Kirito and Asuna's relationship, BTW), stretching their wings wide outside the bars, and here you are not being able to move a wink. I'm surprised she didn't go crazy on us and start talking to the birds.
Anyway, this "fragile, elegant, and beautiful" cell is more than cruel. It's an insult to the prize it has imprisoned, and that mockery is pointed at ALO's current Fairy Queen, Titania. Remember covering the story of Oberon and Titania in PART II? Well, how does the fairy world's strongest fairy look now? That's pretty ironic. Also, who puts a bird in a birdcage OUTSIDE ON A TREE?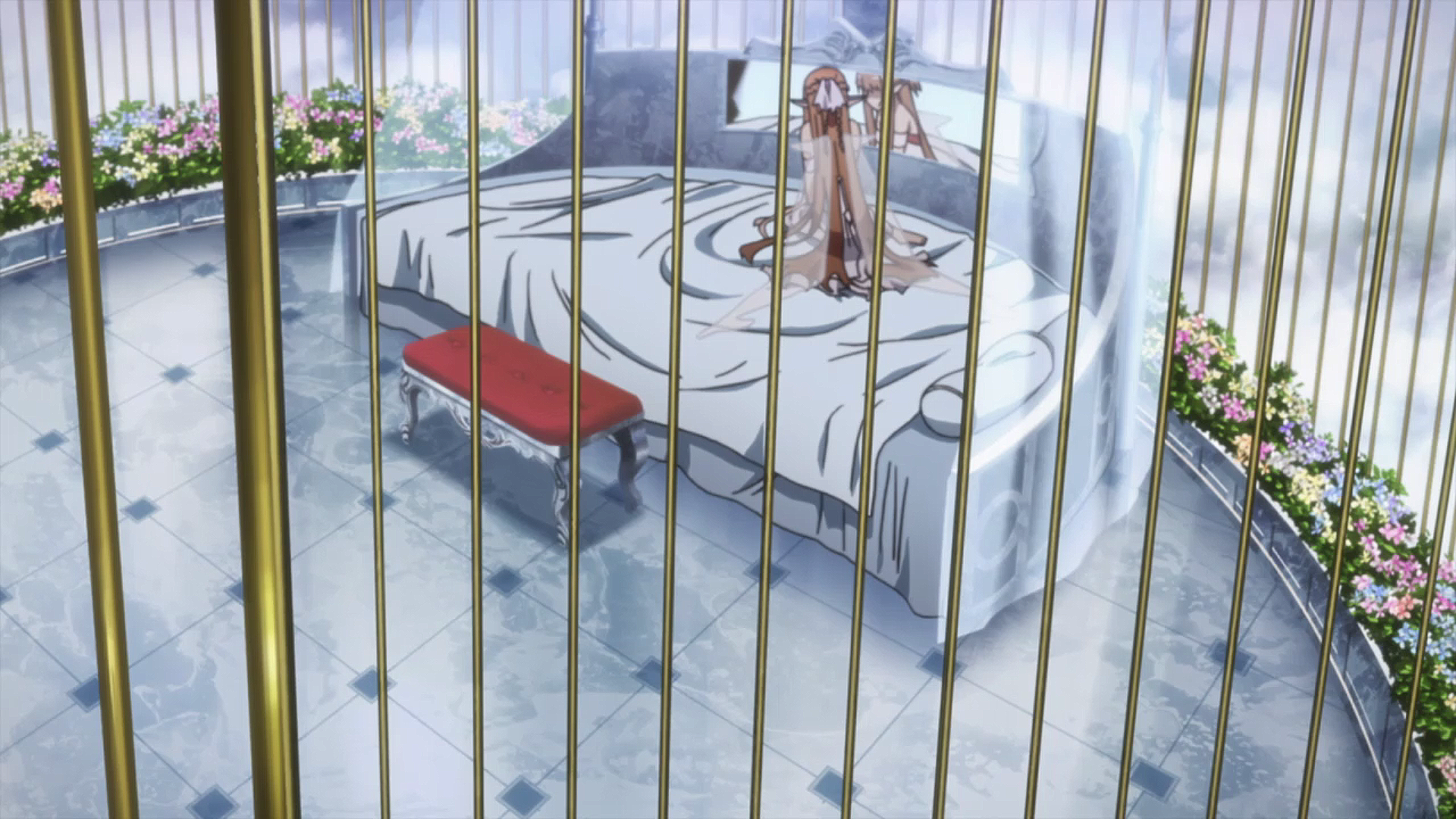 "It was that world she longed for now, even more than the real world that she couldn't be sure actually existed anymore. When she realized that tears were coming to her eyes, Asuna shook her head to get her feelings under control. Kirito was waiting for her in the real world. The only place she truly belonged was in his arms. She had to keep moving to make that happen. This hallway was not quite so long, (57, vol.4)."
So the cage has warped Asuna. While she would love more than anything to fight alongside her best friend and lover, after all she's gone through, Asuna would rather rest in his arms. Is that weakness? No, that's what we call settling down, hence the cabin in Aincrad and her "motherly" stance after this season. She just wants to relax with her love and put this cruel mockery of gaming behind her. But, even in desperate times, Asuna is always strategizing and being sneaky, much like her old avatar. Time passes when reminiscing on nice, old, happy memories, which is why the current hallway she is pacing, though identical to the seemingly never-ending one beforehand, went by so quickly, and she'll cling to these memories to pull through.
"Suguha forgot to breathe when she saw the girl sleeping on the spacious bed. For a moment, she thought it wasn't a person. It must be a fairy – one of the Alfs, the true fairies that lived on top of the World Tree. Such was the otherworldly beauty of the sleeping girl before her, (72, vol.4)."
Hmmmm, you can put this one together without my help . . . Funny how things turn out, huh? The irony is dripping wet.
"Asuna's fighting, too. She's doing her best to resist, to escape this world. There must be more that I can do, (87, vol.4)."
If Kirito's not already got a sense of direction, then here's his eye-opener. Asuna deliberately dropped a key card to them from above. She senses Kirito and Yui, and they sense Asuna. With passion starting to reignite, this is the excitement leading up to the fantastic, cataclysmic reveal! In other words, Suguha's about to find out the cold truth that's been staring her dead in the eyes.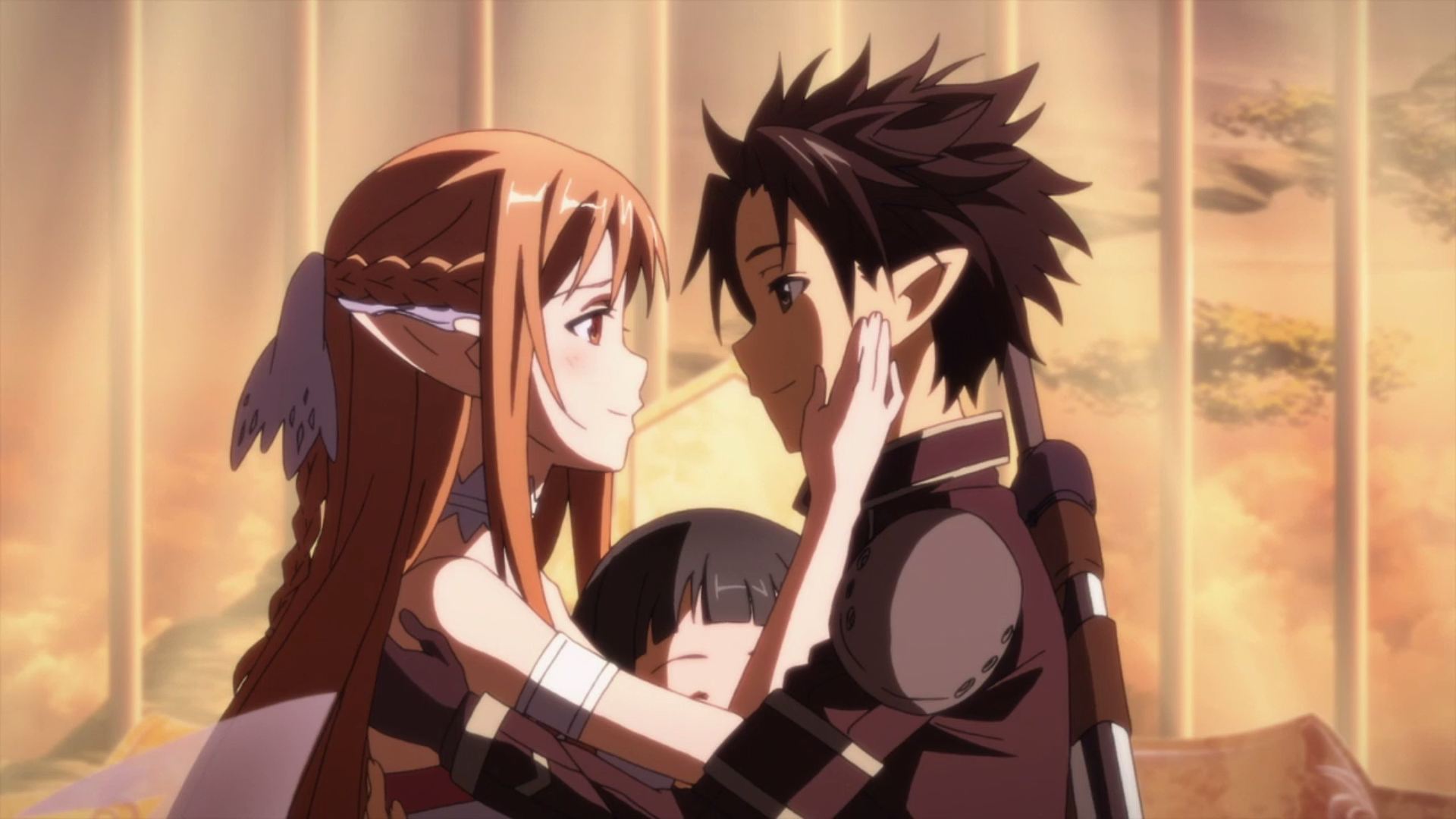 "'I always believed . . . No . . . I still believe. I did in the past, and I will in the future. You're my hero . . . You'll come to save me anywhere, anytime . . . (158, vol.4)."
From peasant fighter, to powerful knight, to heart-warming wife, to caged princess, to freed women, Asuna has grown reluctant to struggling anymore. She hardly recalls the SAO days, let alone her own real home life. The cage has brought unnecessary strife and resignation to the resilient fighter. The quote, however, implies with "I did in the past" that she depended on him, and this could be tracing back to as early as when he saved her guild, or even when they first teamed up, though unlikely. Point is, I'm not surprised that she is tired of carrying the torch. She's by no means weak all of a sudden, just that the front lines are a place of the past now. Everyone can have a hero in life.
"Her thin arms were resting in her lap, holding a shining, blue, egg-shaped object. Her NerveGear. The crown of thorns that had held her prisoner for so long was finally silent, its job finished, (173, vol.4)."
This is a statement of closure. Do you recall Suguha in her final moments spotting her "shining crown ahead of her" to place it atop her head? Notice how they are both identified as "crowns," but for different reasons. A crown of thorns is one full of burden, imprisonment, and painful sin; horns, almost. Meanwhile, Sugu's shining crown is a halo that will transcend her into a free being with wings. Again, both are crowns, but they crown the wearer for drastically different reasons. I honestly wish the story ended here, rather than with Kayaba's cheap RPG maker egg. This crowning glory where one bestows themselves with it while the other relinquishes it is much more symbolic, much more touching, and much more . . . dramatically ironic.
Thank you for reading! Please, share any thoughts below and stay tuned for PART IV!
(I own neither the anime nor the light novel series of Sword Art Online. All images and videos belong to A-1 Pictures and Reki Kawahara.)