This is part one of the five-part series "In Defense of Fairy Dance," a collection and comprehensive analysis defending the positive aspects of Reki Kawahara's "Fairy Dance" arc in Sword Art Online. Research was gathered from the anime (sub and dub versions) and volumes three and four of the light novel series. This is in NO WAY written to justify all of the second half of the series, nor is it to say that it is particularly well-written. Instead, it is a half-full glass of the neat things the series did, and why I enjoyed myself with most of the content despite the glaring flaws. HEAVY SPOILERS EXIST.
Welcome to ALfheim Online, a virtual realm where you and your friends can soar the skies of a fantasy world, fight enemy fairy clans, and, one day, reach the top of the World Tr—
Why fool ourselves? Nobody likes the "Fairy Dance" arc. Well, I shouldn't say everyone, as those who merely dismiss the entirely new plot, characters, and atmosphere just to watch it for fun most likely don't realize all of the sudden, arguably hypocritical, dishes the second half of the infamous Sword Art Online brings to the table.
But is it as "downright lazy, sexist, and stupid" as opponents claim? Do the underlying themes of dramatic irony, devotion towards love, true freedom, and misunderstanding of the bounds of humanity's evil even matter if our favorite character gets her sword taken away? Can we merely cast these intense messages aside? Never, and this compilation will hopefully show you why.
Accompanying me on this journey will be the third and fourth volumes of the series because hey, "The books are always better than the movies, right?"
---
FIRST, learn the difference:
IRONY . . . the expression of one's meaning by using language that normally signifies the opposite, typically for humorous or emphatic effect.
DRAMATIC IRONY . . . a literary technique, originally used in Greek tragedy, by which the full significance of a character's words or actions are clear to the audience or reader although unknown to the character.
---
"You've been met with a terrible fate."
Kawahara hints Suguha Kirigaya's love for her brother Kazuto from as early as page 20. While we'll eventually find out that they are not blood related, incest is its own beast to be tackled at a later date. All we know is that she is love-struck, and that love will be her driving focus to improve herself. She doesn't discover this truth for herself until seeing the pain in Kazuto's eyes when she visits the hospital with him for the first time. Just as they were spending sunrises together, training, happy as can be, Suguha immediately withdraws her heart, for she "realized what her heart truly desired, and that it was in a place she could never reach, (74, vol.4)." It is at this time where, for Suguha, the gaming world is all she can rely on. The real world will bring pain – a pain which sharing with anyone can destroy you from the inside out – and she knows this well.
Tragedy likes following Sugu around, though, as now it is Leafa's turn to shoulder her agony. After her hospital visit, Sugu hits up ALO to vent. "If she cried here, she knew she'd never be able to give up on this. Instead, she'd cry a bit in the fairy world. Leafa was always peppy and energetic; she'd be back to laughing in no time, (74, vol.4)." Crying here means giving up, and girl's got more backbone than that. So she thinks, "Ah, Leafa's a good chap, she'll fix me up right away!"
Wrong. Leafa was fighting her own battles regarding Kirito love, and now she's got a war. From here on, Sugu will scarcely leave the virtual world. One reason is the quest at hand, to reach the World Tree, but the other is to avoid the tragic reality waiting for her back home. How do you confess your love to a sibling? I honestly don't think you can without it corrupting the relationship. Holding it back as tightly as you can is the only safeguard (forgetting about a loved one is hard to do when you LIVE with them), so what better place to store the key than in an intangible world.
As the "stabbing pain deep in her heart" continues to ring, Leafa awakens in Alne following their overnight venture to "wait for the pain to turn into liquid so it could drip from her eyes." When further confronted by Kirito, she replies, attempting to put a smile on her face, "'Well, Kirito . . . I . . . I've got a broken heart,' (76, vol.4)." To which he charismatically responds:
'You're allowed to cry when it's hard – there or here. There's no rule that says you can't express your emotions in a game.'
I'm not the biggest Kirito fan, but that line was just the "bit of awkwardness" Leafa – no, Sugu – needed to hear most. "'I love my brother,' she told herself . . . 'But I can't speak this feeling aloud. I have to keep it trapped deep in the deepest part of my heart. That way I might actually forget about it one day.'" This will have to be the tying point for her, and she'll try her damnedest to bury her lust. If SAO and life itself has taught us one thing, however, it's that everything comes to an end.
Suguha finds out
It's a catastrophic moment we saw coming since episode one of the second half, yet here it is, and it's even more devastating than we could've imagined. 
On page 102 of volume four, Suguha breaks down. Her efforts to conceal her "wicked thoughts" have been all for not when her knight in black armor Kirito reveals that cursed name of the princess he is searching for: Asuna.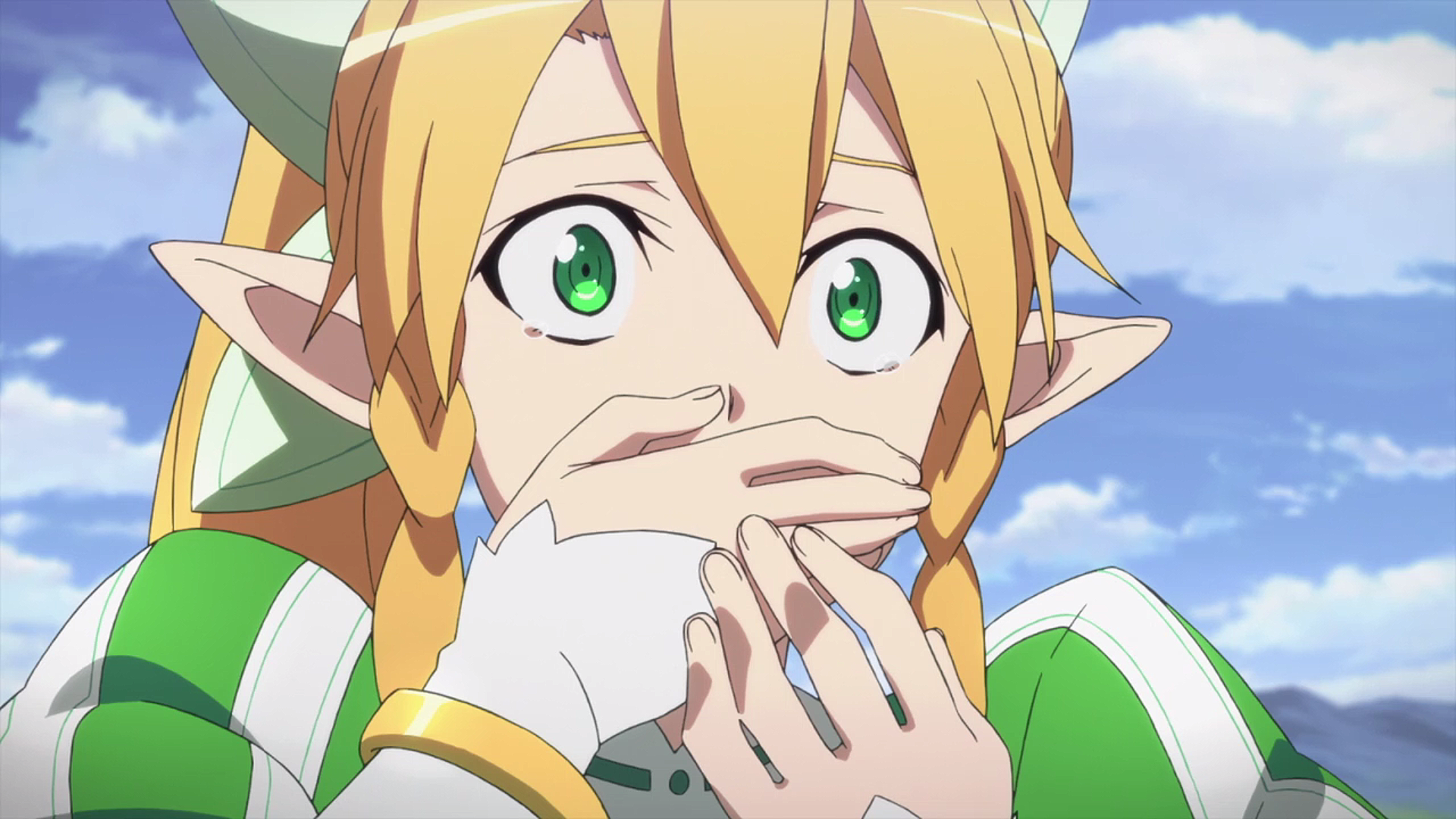 'I . . . I . . .' Her feelings turned into tears and tears into words before she could stop them. 'I-I betrayed my own heart. I betrayed my love for you . . . 'I was going to forget, to give up, to fall in love with Kirito. In fact, I already had. And yet . . . and yet . . . I' . . . 'I was so happy when you came back from SAO. I was so happy when you started treating me the way you used to. I thought you finally saw me for who I was' . . . 'But . . . after this, I'd rather you kept being cold to me. Then I wouldn't have realized that I love you . . . I wouldn't have been sad to learn about Asuna . . . and I wouldn't have fallen in love with Kirito to replace you!!'

'. . . Sorry . . . '
The ball just dropped. Readers and audience members only look to the floor in guilt and self-loath just like Suguha. Her slamming the door is the final sound to finish off her tirade, and it's scary effective. Her thoughts of holding it in and shoving it down her throat are worthless now. For once, I have to give Aniplex's English dub the props for providing the best reenactment of the performance. Cassandra Lee Morris absolutely crushes the role, vocalizing herself like she would in Sugu's feet and topping it off with a tear-filled shattering cry.
Video posted by NintendoxWolf on YouTube. I do NOT own Sword Art Online.
The secret's out, and this could arguably be where the curtain closes for SAO. The dramatic irony for Sugu, if you haven't already guessed, is the multilayered thought she loves her brother, but that is, quote, "wrong." So instead, she abandons her love to fall for Kirito, a bishounen badass whom she feels so alive with on quests. She'll escape the harsh reality for a fantasy world of electrons only to discover the black avatar is none other than the boy she tried so hard to hide her heart from in the first place.
The legacy of this tragic yet classic scene
This scene is not only the most emotional and gut-wrenching part Sugu will ever shine in, but also a decent hit on Kazuto. All this time, he has known the Net to be a place where everyone has a "secret inner side." It's now that he questions his own familial and relationship status with his cousin: "Who is this person, exactly? Do I really know them? (105, vol.4)." This guilt is almost as heavy a burden as being responsible for killing off his first group of friends back in Aincrad. You should realize by now that it's nearly impossible to knock Kirito off his feet – And Sugu did it verbally in less than two minutes.
As much as tragedy has woven these two fates together, SAO will once again prove that gaming and friendship can mend the bonds once broken by the game. Knowing that her knight would wipe his tears aside and grab his sword, Suguha reaches out to her "shining crown ahead of her" and "set it on her head." Though its resolution was shamefully brief (a mere shrug to the side cause Asuna comes first), SAO fans of the dramatic irony device will revel in this classic scenario for years to come, and its outstanding effects it set on Suguha will not be forgotten so long as we remember the sacrifices she made to truly grow wings and take off.
Kawahara is guilty of adding more females to the story not only because he claims it's easier to add a new face to give the MC a new relationship, but also because he likes the idea (Afterword vol.3). However, the light novel series is a monumental step up in terms of more cohesive understanding and better execution of elements like dramatic irony. In comparison to the anime, the "boobs and butts" are also much less distracting and in your face, being a bouncy visual production and all. I'm sure it's meant to be pleasing to the eyes, yet I believe it deflowers Kawahara's vision given the much more intricate and meaningful (and appropriate) actions, pauses, romantic elements, and thought processing found in text.
I realize that that her situation could be very difficult to imagine yourself in, but gosh dang, you've got to give a teen girl props for trying her hardest yet still falling into heartbreak – Not once, but twice. You may not like Suguha or Leafa – You may even detest SAO – but understanding both sides to every argument is half of life. The other half is of course being able to place your judgment on an issue. All I can recommend is that if you feel "lost" or ashamed of SAO, do try reading the original light novel series to possibly formulate a new outlook on the series that means something to you. I managed to uncover many of the less-apparent literary devices, dramatic irony being one, and that opened up a whole new window of exploration. Also, I just want to give Sugu a big ol' hug after everything she's been through, that poor, poor girl.
---
Thank you for reading! Stay tuned for PART II!
(I own neither the anime nor the light novel series of Sword Art Online. All images and videos belong to A-1 Pictures and Reki Kawahara.)