Chances are that if you were linked here from another blogger pal, you might be new to this place. To those first-timers, "Hi, I'm Takuto, and welcome to my anime cafe!" As part of the OWLS blog tour's seventh monthly topic for 2018, "Mentor," I wanted to broaden my horizons into the shoujo genre like I did last month . . . only to find out while writing this that The Royal Tutor is somehow labeled under the shounen catageory. Still, I enjoyed the efforts of Grannzreich's latest royal tutor as he set out to shape up the country's four princes into well-rounded individuals fit for the crown. How exactly he accomplished such a daunting task is what makes him a perfect fit for this month's topic!
Throughout our lives, we might have encountered someone that we admired as a role model or has guided us in some life dilemma. This mentor could be a teacher at school, a coach, a boss or team leader at work, or a family friend. Whoever it is, that person impacted your life in a positive manner. For this month's OWLS topic, we will be writing about mentors or mentorships in anime and other pop culture media. Some topics we will be exploring include how a mentorship impacted a main character's life, the types of mentor relationships a person could have, and/or personal stories about mentors or mentorships.
I had only recently crossed paths with The Royal Tutor, so it's exciting to freshen up my palette with something I would normally not have watched. Thanks Z and Lyn for the prompt!
---
A brief spoiler-free discussion on the 12-episode spring 2017 anime "The Royal Tutor," animated by Bridge, directed by Katsuya Kikuchi, and based on Higasa Akai's manga of the same name. 
The Royal Court Requests Your Presence
The King of Grannzreich currently fathers five sons, four of which in desperate need of tutelage should they need to assume the throne. There's Licht, the flirtatious, most free-spirited, and youngest prince; his dimwitted, hotheaded older brother Leonhard; Bruno the studious yet close-minded third prince; and Kai, the most reserved and oldest of the four with a RBF so intense that he scares even his hand-servants away. All of them want the throne, badly, but their collective inability to overcome their individual shortcomings prevents them from receiving their father's approval.
After having many tutors come and gone—all deemed failures either because they ran out or were run out of the palace by the princes themselves—the king turned to an old acquaintance, the equally charming and austere Heine Wittgenstein, for the massive and intimidating undertaking of properly educating his sons. But as it happens in the royal family, the apple doesn't fall too far from the tree, and Heine finds dark memories of his past resurfacing in the present. Nothing shalt shake the brilliant Heine Wittgenstein, however, for despite his incredibly short, childlike stature, the new royal tutor's ability to command respect and diligence from all of his pupils is the exact reason King Victor von Grannzreich hired him in the first place.
Educating royalty might not sound like a very interesting concept for some, but with comedy as the main genre The Royal Tutor is tossed into, one can only imagine the hilarity that ensues when a tiny teacher cracks a whip on a spoiled, blond-haired twat for not knowing what 2 + 2 is. After the four princes are forced to understand that Heine is NOT going to give up on them, episode by episode, the royal tutor works one-on-one with their majesties. While some princes are easier to coerce than others, Heine remains determined to give them each the same amount of time together. This establishes a mutual respect boundary between teacher and student, as well as fellow students (or in this case, brothers).
In their private lessons, Heine systematically pulls the princes to their lowest lows, never failing to offer fascinating and invaluable advice on the human spirit. Heine, simply put, is an inspiration to the boys. Slowly but surely, the Grannzreich princes warm up to Heine, and as the royal family's name continues to face false accusations and scandalizations via some shady wealthy individuals in the kingdom, the princes must come to Heine's aid in turn to protect not only his name but their own. From beginning to end, the plot offers a pleasant ride which nicely works in serious moments of character growth (the show's most noteworthy feature) and the slapstick, slice-of-life comedy in all its chibified glory.
Such wonderful balance could only be obtained in a show like Ouran High School Host Club—And in fact, between the on-par voice acting and similar art style, I'd go so far as to call this anime Ouran's spiritual successor! Trust me, there's a high chance that if you liked that ritzy ditzy cast, you'll definitely *KISS KISS* fall in love with this one too!!
Teacher and Student
While I'd like to say the series's "best boy" is Heine himself, until the very end, he mostly acts as a device to push other characters toward development. Even after everything's said and done, we only know a bit about his childhood, and that he's been the leader type since. He's also strict, but true to his word; credit is given only where credit is due. Though pint-sized, Heine is still a moving, breathing source of inspiration, and if his grand speech in the finale episode, "The Last Lesson," didn't move you to tears, I'm honestly not sure what will. Having watched Funimation's English dub, I can confirm that this is both one of Micah Solusod's funniest characters (what with the hilariously low register for such a lil' fella) and, despite Heine's apathetic yet articulate tone, most poignant, eloquent roles.
The same glowing things could be said about the rest of the cast. I love the spoiled Licht's endeavor to try living a humble life, as well as his charisma and resistance on not letting being the youngest hold him back. Not gonna lie, VA Stephen Sanders has a weird voice, but it fits Licht's flashier side well enough. Fourth prince Leonhard struggles wanting to study hard to be like his brothers, to which I'm sure we can all relate. Leo's whiny, bratty personality but inner goodwill can be felt thanks to Alejandro Saab's great (and very high-pitched, wow) voice acting.
Third prince Bruno was the real surprise, as I normally don't care for the megane characters. But here we are, with the studious and esteemed Bruno as best boy, and VA Christopher Wehkamp as the one who brought this Heine fanboy to life. Lastly, second prince Kai is, well, Kai. Rumored to be violent, but actually has hands gentler and more caring than all in the land. For all those low, billowing grunts and one-liners, Daman Mills gets the job done.
Genius vs. the fruits of hard work; personal enjoyment and satisfaction vs. maintaining one's line to the thrown. As a prince in the line of succession, such sacrifices are bound to be made. But with knowing that they likely won't become king because their eldest brother, the elusive first prince, is already the perfect candidate, does sacred duty really come before broadening horizons outside the palace? That's what Heine is here to mentor us and the four princes through, and it is for that reason that I thoroughly enjoyed this series of personal conflicts and inferiority complexes galore.
Adding Charm with a Splash of Color
Briefly, I wanted to mention the beautiful animation by Bridge, a studio that hasn't done too much beyond helping with Fairy Tail (2014) and a couple game-to-anime adaptations. First, Heine's dud mode, and how The Royal Tutor switches between chibified comedy and serious bishounens with incredible ease! Next, the unique lighting, something which I guarantee not many mention. While most anime define shadows as darker hues of the same color or just with a flat gray color, studio Bridge highlights skin and clothes with blues, reds, pinks, oranges, whatever the color depending on how light would logically reflect on brightly colored interior palace walls and long, draping curtains. The boys already had glittery eyes and pretty ombre blends in their hair, and this added color gave the anime additional charm, not that it needed it. The highlights match wonderfully with the innate palace couches, gold leaf embellishments, and stunning wall and carpet patterns. Bridge has absolutely convinced me that these men do, in fact, live the royal life.
Also lovely is the light piano music that can be felt during the tender moments. Keiji Inai's (DanMachi) whole soundtrack, in fact, feels inspired by classical music, another nod to this literally being Host Club's spiritual successor. Fanciful, flowing, and grand—a perfect fit for our princes!
Heine's Lessons & Learning How to be Human
At the end of each day, Heine Wittgenstein offers a brilliant and breathtaking lesson on the human spirit. So what better for an OWLS "Mentor" post than to showcase the words of the wise straight from the royal tutor's mouth!
---
Licht's devilish charm and desire to entertain his lady-friends constantly pushes him to lead two separate lives. Thus, Heine teaches him about the duality of man, and how he can be both a prince and a gentleman so long as he learns to prioritize his own safety.
Always remember, before quitting something you want to do, you should always explore alternative solutions.
A king must lead with compassion without discrimination. He must be one who always hears his people, no matter the circumstance, as well as want everyone to follow their ambitions and enjoy their freedom.
Leonhard always stumbles where intellect is concerned, but makes up for this shortcoming with mad athletic skills. He holds himself to a higher standard because of his inability to learn new subjects, and flees when things get rough. As a result, Heine puts Leo through test after test, threatening him with the separation of teacher and student, friend and friend, as the ultimate motivator to learn.
Those who recognize their own vulnerability can grow to be stouthearted souls who are kind and sensitive to the pain of other people. Running away may seem like a solution, but has it ever made your heart feel lighter? Hiding from your problems will not make them go away.
A king must lead with powerful imagination. He should act with compassion, and reach out to people in need. To want to live in a country where we all help each other is an honorable thing indeed.
Meanwhile, Bruno is just about as princely as one can get, but he lacks that extra lick of creativity that his brothers possess, forcing him to work harder all the time to overcome this imperfection. Even then, he's still so smart—any university would be lucky to have a guy like Bruno! Unlike Licht or Leonhard, his options are infinite. Like a master should, Heine remind Bruno that we only get one life, and that we must choose what is best for us.
You only have one life and it's yours alone, so live it as you please because it's the only one you're going to get. 
A king must lead with acumen and expertise. He must possess a wealth of information. There will be a time when people will go down the wrong path, but no mistakes happen–he should believe in second chances, not punishing them for the sins of their past.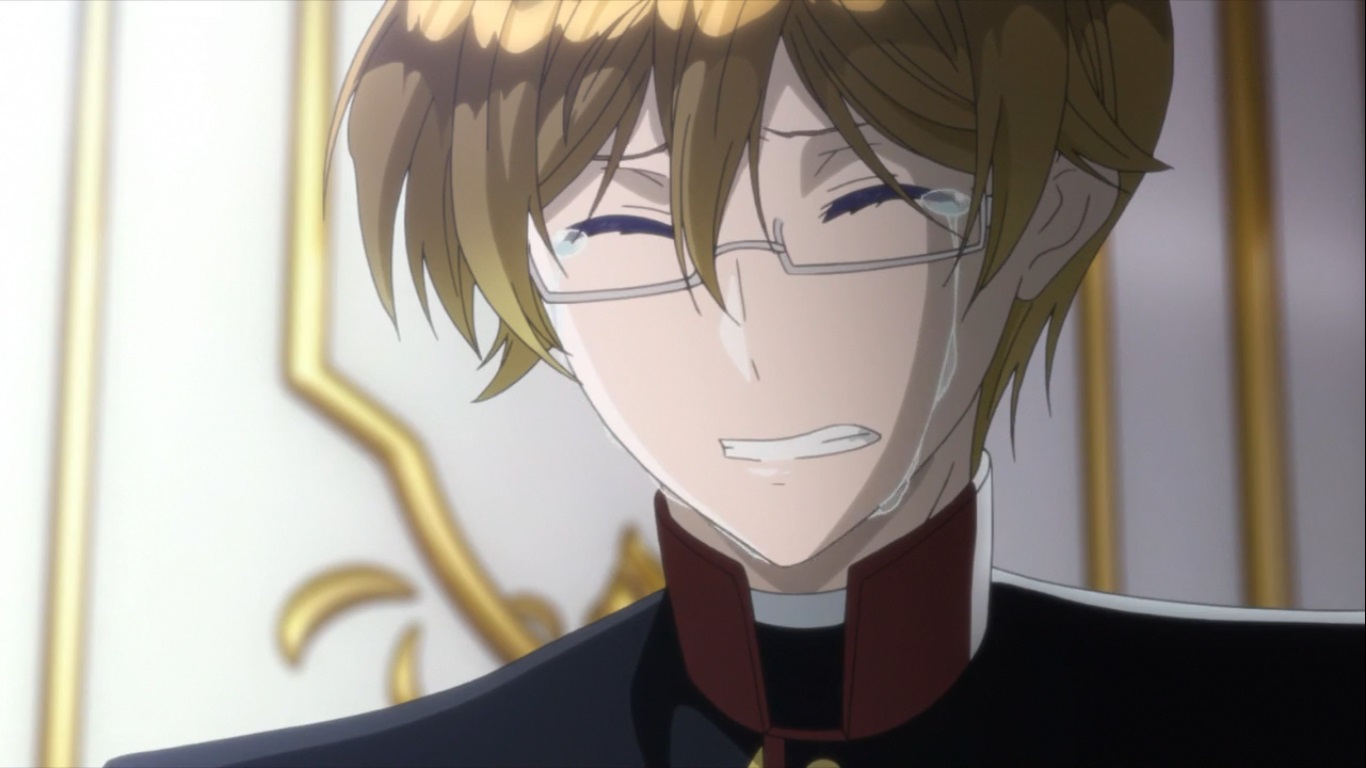 Lastly, for the reclusive Prince Kai, Heine tells him of humanity's kindness, and that, should he express generosity and affection to his subjects, his people will return such warmth in full.
Everyone has a different personality. Some won't like you no matter how polite you are to them. It's not all bad. That also means that there are plenty of people who will like you quite a bit. This world is very big. Do not deprive yourself of people who will understand and care for you. 
A king must never surrender his overwhelming heart. The misunderstood should not lose hope, for he shall be a king that all the people will adore. This chronicles the lessons taught by Heine, amongst many more untold.
A Tutor for All Ages, a Lesson for All Time
Make no mistake, The Royal Tutor is a very fun show. Its comedic timing is great, and its charismatic characters are full of personality. That said, this series also dabbles into several valuable lessons we all take for granted. From beginning to end, The Royal Tutor offers well-rounded, wholesome episodes that are filled to the brim with simple life advice. The boys are pretty, and the fujoshi crowd will love it, but . . . beyond looks, it's a show about not judging people based on first impressions alone, as well as helping those with needs unlike most others by building a personal relationship with them and helping them grow as potential leaders. If ever you need a pick-me-up, Heine Wittgenstein, the royal tutor, has always got the time for a private lesson with you—just make sure you are prepared to learn.
Instead of judging others based on rumors and gossip, I must seek the answers for myself and arrive at my own conclusions. One must never think they know someone after little to no time with them, and so I must begin again. With every fresh start comes a new beginning.—Heine Wittgenstein
---
Afterword
I came into this show just in time, for a second season of The Royal Tutor was just announced not too long ago! Like Prince Leonhard's rich and savory sachertorte, I, too, shall award this first season with the "Cake" rating, a show too sweet to miss out on! Have you seen The Royal Tutor? Who's your favorite prince?? You'll have to let me know what you thought about the series or this OWLS post in the comments!
This concludes my July 24th entry in the OWLS "Mentor" blog tour. Gloria (The Nerdy Girl News) went right before me with a post about learning to live again in The Ancient Magus' Bride, a series that I really ought to watch! Now, look out for blogger buddy Hazel (Archi-Anime) with a post on Ace of Diamond, a sports anime that I've also been longing to watch, tomorrow, July 25th (it's also her birthday, so give her a shoutout)! Thanks for reading such a long post, and until next time, this has been
– Takuto, your host