Hello again!
On this cold Monday morning, I present to you the last of my 2018 clean-up spree! Does anyone else use the term "watch log" anymore? Well, in case you didn't know, this refers to all the anime shows/films I watched in 2018. I'll also include the MyAnimeList rating I gave each title as a quick way to express how I feel about them. (I mean, this post would be waaaay too long if I wrote a paragraph about each one, so for your sake and mine, let's keep it short.)
In the *rare* instance that I wrote about a certain title on my blog, I'll include a link to that post so you can check out my more in-depth thoughts. Also, this list differs from my Top 10 Anime of 2018 post in that it is NOT LIMITED to shows that aired solely in 2018; it will include EVERYTHING that I watched/played in 2018 that relates to anime. What it will NOT include are the books that I read, because let's be honest—keeping track of individual volumes of a specific series is both tricky and somewhat pointless.
The reason for writing this post is simple: there's a LOT of stuff I didn't write about on my blog. Although I may have wanted/planned to initially write about a show, for some reason or another, it didn't always happen.
So, at the very least, I wanted to share with you all—in the quickest way possible—my adventures through anime in 2018. I owe you, my dear cafe goer, and to keep us both from constantly trudging along in the past, I have formulated the most efficient way to tell you about where 2018 took me, and where I'm at now.
But without further ado, here's a quick reflection on my 2018 watch log—a brief retrospective glance at all the cool stuff I watched this past year. If you've seen any of these shows or would like to know my further thoughts on it/them, hit me up in the comments and I'll respond!
---
HOW TO READ: The list goes in chronological order, starting in January (2018 End of Winter) and ending in January 2019. Since my own personal anime list that I keep on my phone's notes section (classy, right?) is written in chronological order, so will this list. Also, in case you haven't noticed, I group my anime adventures by season, as seasons seem to have the greatest influence on my watching experience. It's got to do with emotions and timing stuff, IDK I'm just weird like that, hahaha. 
2018 End of Winter 
Diabolik Lovers     5/10
She and Her Cat -Everything Flows-     8/10
Made in Abyss     9/10
Love is Like a Cocktail     7/10
Patema Inverted     9/10
2018 Winter Simulcasts
A Place Further Than the Universe     10/10!
DARLING in the FRANXX     7/10
2018 Spring
Animation Runner Kuromi (Seasons 1 & 2)     7/10
Haikyuu!! 2nd Season     8/10
Sailor Moon Crystal Season III     9/10
Whisper of the Heart     9/10
The Cat Returns     8/10
Sailor Moon SuperS     [currently watching]
Colorful     8/10
2018 Spring Simulcasts
Steins;Gate 0     9/10
SAO Alternative: Gun Gale Online     7/10
My Hero Academia 3rd Season     9/10
2018 Summer
Children of the Whales     [need to finish]
Only Yesterday     8/10
Summer Wars     9/10
Waiting in the Summer     7/10
Amagi Brilliant Park     8/10
Texhnolyze     [need to finish, may drop]
No-Rin     [need to finish, may drop]
2018 Summer Simulcast Season
Cells At Work     [need to finish]
Banana Fish     8/10
Attack on Titan Season 3     10/10!
Angels of Death     7/10
Grand Blue     6/10
Free! – Dive to the Future     8/10
High Speed!: Free! Starting Days     9/10
Free! -Take Your Marks-     8/10
2018 Fall
Assassination Classroom     [need to finish]
Ranma 1/2 (Viz Set 4)     [currently watching]
When Marnie Was There     9/10
Ocean Waves     7/10
Kino's Journey     8/10
2018 Fall Simulcast Season
A Certain Magical Index III     [currently watching]
Sword Art Online: Alicization     [on hold]
DAKAICHI -I'm being harassed by the sexiest man of the year-     8/10
SSSS.GRIDMAN     9/10
Run with the Wind     [currently watching]
Tsurune: Kazemai High School Archery Club     [currently watching]
2018 End of Fall-Winter
Emma: A Victorian Romance     9/10
Shoujo Kageki Revue Starlight     [need to finish]
Napping Princess     7/10
Emma: A Victorian Romance Season 2     10/10!
Genocidal Organ     8/10
Urusei Yatsura Movie 2: Beautiful Dreamer     8/10
The Ancient Magus' Bride: Those Awaiting a Star     8/10
Scrapped Princess     9/10
2019 End of Winter
Danganronpa V3: Killing Harmony (PS4)     11/10!!
The Promised Neverland     [currently watching]
Gargantia on the Verdurous Planet     [currently watching]
WorldEnd: What are you doing at the end of the world? Are you busy? Will you save us?     [currently watching]
---
My Most-Liked Post EVER!!!
I realize this is pretty much old news by now, but in case you missed it, 2018 was the year that I finally published my big meta analysis on Makoto Shinkai's works in this post: On Love, Loneliness, & the Growing Distance Between Us | The Works of Makoto Shinkai. This project is utterly massive, clocking in at just over 5,000 words, and it encompasses every single animated work Shinkai has ever created. I'm really, really proud of how it turned out—all the countless hours of rewatching and research were definitely worth it.
And to top it all off, it has become, to my knowledge, my most-liked post EVER. With over BOTH 40 likes and 40 comments, it is now a central part of my blogging portfolio, which I do hope to expand upon in 2019. These stats may not seem like much to you guys, but to me, it means that if I work hard, others will appreciate my efforts, and that seemingly small sentiment means the world to me. Seriously, thank you—you guys are awesome! ;__;
---
Some Blogging Goals for 2019
See, I told you I've been busy! As you can see, I kinda just *stopped* reviewing stuff after the summer, and that's mainly because I took a hiatus, but also because I didn't really feel like reviewing content. So instead I did nothing, and it definitely hurt my blog in the long run. And no, rewatching old favorites like From the New World, Danganronpa 3, Aria the Animation, Railgun S, Cowboy Bebop, Lord Marksman and Vanadis, and so many others didn't help much to expand my watch log . . . whoops. 😛
But now that lazy phase is over, and I should be back in the saddle. Should. Since this post is just one big update thing, I've compiled a few goals I want to accomplish blog-wise in 2019. Since I didn't do anything like this last year, maybe writing my goals out will help me stay inspired and at the keyboard.
1. Read More Posts
Pretty self-explanatory; if I keep up with all of your guys' content better, then there will be less for me to play catch-up with. Also, I want to be involved with you all again like I used to when I started blogging. For those of you who tweet out your posts, there's a good chance that I will read them. But I realize that many do not use Twitter for that reason, so this goal involves using the WP reader more.
2. Write More Succinct Reviews
This one's more for me—there's a lot of shows from 2018 that didn't get coverage even if I may have wanted to eventually write about them. While I don't want to review every single thing I watch, this will at least help stimulate blog traffic again. It'll be much easier to make this happen now that I FINALLY feel comfortable with my reviewing format. Now I just need to up my game. Plus, I hope to make these shorter and more succinct, bringing the word count from 2,000+ down to 1,500 or less again.
3. Post More Often
I'm thinking to upgrade from my 1-2 posts per month of 2018 to 3-4 posts per month, and although that doesn't sound like too much for you guys (cause you're all pros!), it'll be a huge step-up for me—and I think I'm finally ready for it.
4. Bring Back Cafe Talk
Hey, yeah, where did this little guy go? I want to revive the segment in a new, fresh way by reformatting the way the posts are written. They'll ideally be much shorter (think less than 500 words) and and personal, I want this to be a way to connect with you guys in case the reviews don't (because hey, I get it). Short stories, thoughts, and whims from my life as an anime fan, collector, cosplayer, blogger, and kid suffering through college studies. Sound fun?
5. Write More Haul/Collection Posts
Although 2019 will be a year of saving money for me, I always get excited when it comes to writing haul posts. So, I thought, why don't I just write more of them? As you may know, I'm an otaku-based collector; my shelves are full of DVDs, manga, and figures. And after reorganizing my room for the New Year, I couldn't help but feel the urge to write about the new stuff I get and the old stuff I have. If you're interested in this kind of thing, let me know in the comments!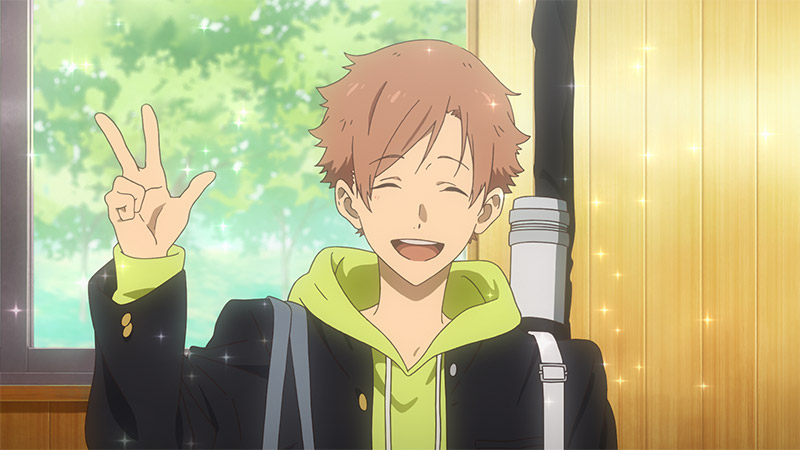 ---
Ready for 2019!
After the big OWLS catch-up, a reflection on my own OWLS experience, a compilation of my favorite shows from 2018, and my 2018 watch log + new blog goals up and out there, I'm finally ready to get 2019 started. Sure, I'm three weeks late, but better late than never, right?
Thank you so, so much for sticking with me throughout my slow year. I feel like we've all got one/will eventually get one, and it is so heartwarming to see that you guys are still interested in what I have to say. And to all my new followers, hi! Hello! Thanks for following, and I hope you are enjoying your stay.
With the past three posts done I've officially rambled enough. Again, I'd love to hear your thoughts on my watch log and goals, and if there's a show up there that you want me to talk about further, I'd be more than happy to elaborate. Ah, I'm so excited right now, and I hope this inspiration sticks with me for months to come! Thanks so much again for reading, and until next time, this has been
– Takuto, your host